PowerBank Guide is reader-supported. When you buy through links on our site, we may earn an affiliate commission.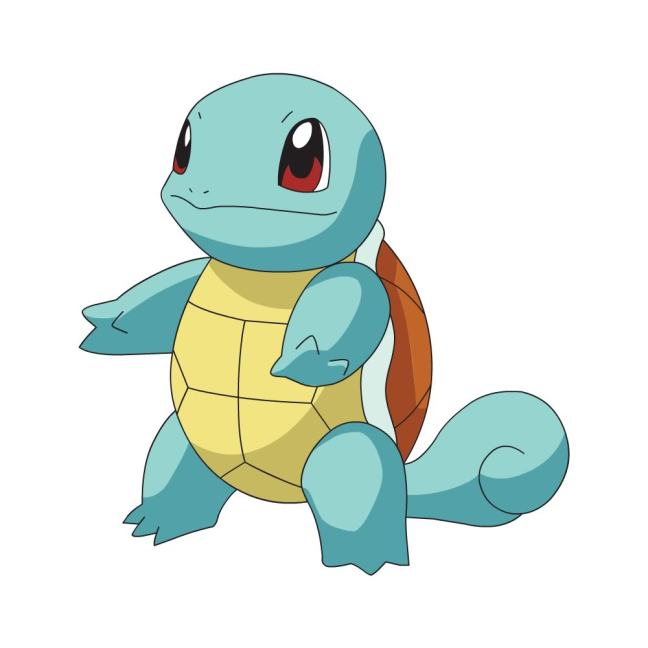 Nintendo Switch, the most popular handheld gaming console in the world is also known for being a massive drain on the battery. A day of fun filled Switch gaming requires a dependable and long-lasting powerbank as you will definitely not want yourself stranded without power in the middle of a game.
We have compiled four best backpack power banks for Nintendo Switch. The powerbanks have been selected on the basis of three main criteria crucial for Nintendo Switch:
Rapid charging capability: This is important as you will not like your phone to be tethered to the powerbank while searching around for Pokemons. Fast recharging features in the latest power banks will allow you to quickly recharge your battery up to 80% in just half-hour and be ready again. Qualcomm Quickcharge 3.0 is one of the fastest recharge technologies out there and we have selected only the power banks that come with the latest QuickCharge  3.0  that charges your battery 80% in about 35 mins.
Rapid recharge time for the powerbank itself: For massive capacity 20100 or 26800 Mah powerbanks, the rapid recharge feature for the powerbank itself is a must. A usual 20000 mAH powerbank takes about 20 hours+ (!!) to charge on a 1 Amp standard phone charger and about 10 hours on a 2 Amp fast charger. But a massive capacity powerbank such as RAVpower 20100 with Quickcharge 3 input feature will get charged in about 6 hours flat using a Quickcharge compatible wall charger such as Aukey USB Wall Charger with Dual Quick Charge 3.0 Ports.
The rapid recharge feature gives you the flexibility to put the powerbank on recharge even on the very day of the pokemon catching – you do not have to plan a day in advance. We believe that anything more than overnight charging is simply a hassle best avoided.
Light weight: Light weight is crucial for a Pokemon Go powerbank as a bulky battery can be a nuisance during long Pokemon scouting walks. While many cheap power banks will give you the required battery capacity, a light and pocketable power bank will allow you to keep the power bank in pocket and move around with ease while charging the phone. A really light power bank can even be held in the same hand as the phone while charging it.
A light pocketable powerbank will also allow you to use a short cable for charging while holding the phone in hand or while keeping the powerbank in the pocket. This will allow you to extract the maximum battery capacity from the powerbank.
Durability and Build Quality: Pokemon Go is almost exclusively an outdoor activity. Pokemon spotting walks will inevitably imvolve stumbles and facing the elements and that often invariably includes dropping of the powerbank. To be fully equipped, both your phone and powerbank must be robust enough to withstand the rough and tumble imvolved in walking for long periods. Solid and reliable build quality backed by a friendly and quick warranty policy is hence a must in a Pokemon go external battery bank.
Here are the three best powerbanks selected by us for Pokemon Go enthusiasts  on the basis of the above criteria:
RAVPower 20100 With QuickCharge 3.0 Input/Output
RAVpower 20100 is our top favorite pick as backpack powerbank for Pokemon Go players. This powerbank not only delivers massive battery capacity and blazing fast charging speeds of Quickcharge 3.0, it can itself be charged quickly in just 5 hours as it is support Quickcharge input. RAVpower 20100's unique combination of massive capacity, Quickcharge 3.0 output and Quickcharge 2.0 input make it our top pick for hardcore Pokemon Go players.
The massive 20100 Mah capacity of RAVpower 20100 means that you can simply forget about running out of battery in a day no matter how battery hungry your display or phone is. The QC 3.0 output ensures blazing fast top-ups for your smartphone battery while the QC 2.0 input means that this HUGE capacity powerbank will get charged in as little as 6 hours.
To top it all, RAVpower 20100, with all its handy features is available at almost the same price as our #2 choice. While it is not exactly a pocketable powerbank, the three extra features of more capacity, QC input and unbeatable price make it a savvy choice for serious Pokemon go trainers.
If you plan to use the RAVpower 20100  to charge your smartphone while keeping the powerbank in the backpack, we recommend buying a high quality six-feet cable such as Anker Powerline Nylon Braided Tangle-Free Micro USB Cable with Gold-Plated Connectors . This heavy-duty cable will allow you to recharge your phone while keeping the powerbank convenienty in the back pack and scouting for any pokemons's around, without worrying about the cable snapping due to prolonged use.
Anker PowerCore Speed 20000 QC with QuickCharge 3.0 Output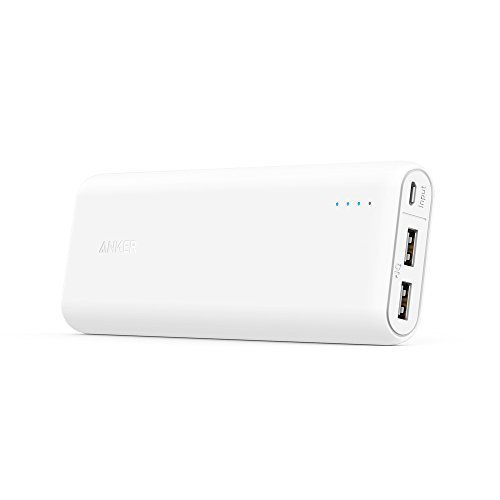 Anker PowerCore 20000 with QC 3.0 is our second top choice for Pokemon Go. This is the freshly released QC 3.0 capable version of Anker's  regular and lower-cost 20000 mAH powerbank and is getting sold out on Amazon as soon as it becomes available – probably lapped up by smart Pokemon Go players.
And if you buy the Anker PowerCore 20000 do not forget to buy a 2 Amp wall charger such as XXXXX to quickly charge it overnight (about 10 hrs). A regular wall charger will take almost 18 hours to charge it.
The massive 20000 mAH battery capacity allows you to charge most smartphones up to 6 times, which means one whole day of non-stop Pokemon Go with no recharge break. Its narrow size makes it even pocketable in a jeans pocket while the solid durability and build quality ensure you that it can take some beating in the outdoors!
To top it all, and perhaps the real reason for it incredible popularity, is its price. At a tiny price difference up from the Anker's 10000 mAH version, the Anker PowerCore 20000 offers double the battery capacity!
The Anker PowerCore+ 26800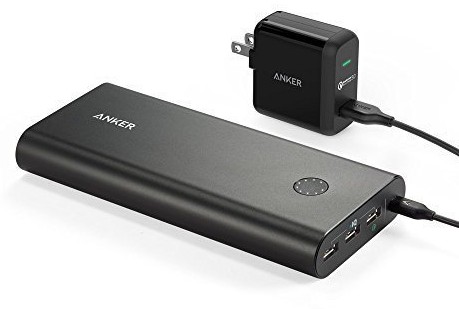 The  Anker PowerCore+ 26800 is our next choice due to its combination of class-topping 26800 mAH power capacity and support for QC 2.0. In fact it  offers all the four of our most-wanted features for Pokemon Go – Rapid Recharge, Rapid charging, Massive capacity and a robust build.
The Anker PowerCore+ 26800 supports both QC 2.0 input and output. However, it also costs the highest among all our picks and this makes it our next best choice after RavPOWER 20100. It is one of the few 26800 mAH powerbanks in the market with QC 2.0 input that allows rapid charging of this huge powerbank in about 8-9 hours.
Ravpower 13400 (With QC 2.0 Input/Output)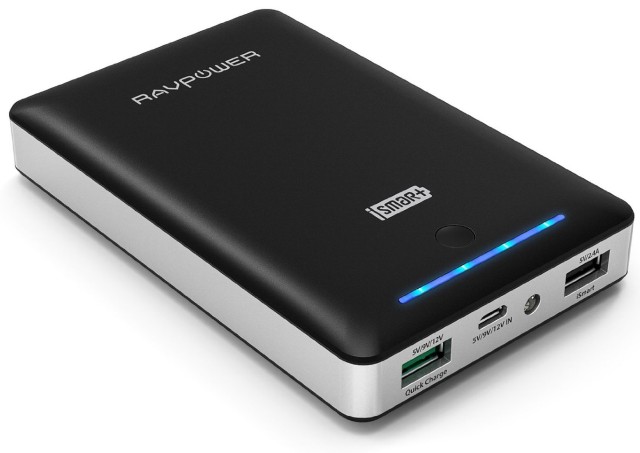 Ravpower 13400 comes with both QC input and output, an incredibly low price tag and solid build quality.
For Pokemon Go trainers who do not require the huge bulk of 20100 or 26800 mAH class powerbanks, Ravpower 13400 is an excellent balanced and low-cost backpack power bank choice with all the required features.
Its steal price and sturdy build quality is another of its biggest plus points as well!