PowerBank Guide is reader-supported. When you buy through links on our site, we may earn an affiliate commission.

Anker PowerCore 6700 Review Summary
Anker PowerCore 6700 is one of the smallest and lightest portable chargers with adequate capacity to fully charge all small-screen iPhones (iPhone 12 mini, SE 2020, SE, 8/7/6s/6 etc.) two times at twice the speed (10-watt) of Apple default charger (5-watt) . This Anker charger excels in build quality and is easily one of the best compact portable chargers available for both iPhones and Samsung and other Android phones.
However, it is a very old design, and for same or lower price,  you will get modern portable chargers from Anker or ZMI/Xiaomi that support modern iPhones and Samsung fast-charging.
We recommend Anker PowerCore 6700 only for its low 4 oz (120 gm) weight. If you are OK with 7oz (200 grams) weight, you will get far more modern ZMI 10000 USB-C  from Xiaomi associated ZMI that supports both USB-C and micro-USB, 18/20-watt USB-C charging for new iPhones and Samsungs, and gets charged in half the time.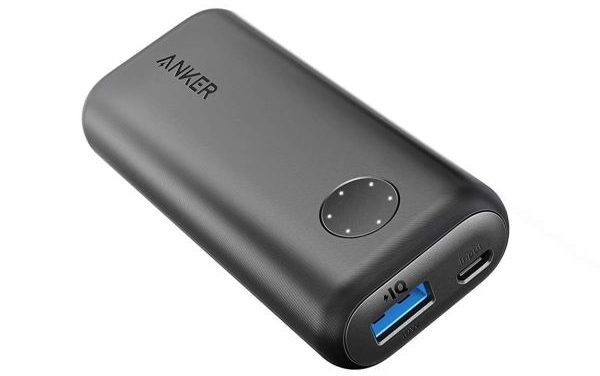 Pros
Can charge iPhones from zero to 50% in 40-50 minutes (twice as fast as stock Apple iPhone chargers as PowerCore 6700 supports 2.4 amp charging).
Can charge most Samsung and other Android phones from zero to 50% in 50-60 minutes.
Charge iPhones 12, 11, XR, XS, X, 8+, 7+, 6s+, 6+ from 20% to 100% about twice. 
Charge iPhones SE 2020, 12 mini, 8, 7, 6s, 6, SE, 5s, from 20% to 100% about three times
Charge Samsung S21, S20, S9, Note 20/10 from 40% to 100% about twice.
Fully Charges S21, S20, S10+, S9+, Note 10 once
Solid build quality
Premium look and feel
Gets fully charged in about 4 hours 
4.1 oz (120 grams) weight
Grippy design is better than all metal shells
Cons
Frankly, it is an old and obsolete portable charger. Priced too high for its capacity. Consider ZMI 10000 USB-C that is miles ahead of it in every way while costing less.
Small, compact but a slimmer design would have been better
Anker PowerCore 6700 Charging
Anker PowerCore 6700 supports a maximum charging output current of 2.4 amps. This enables it to charge both Android smartphones and iPhones at very good charging speeds. PowerCore 6700 will charge all iPhones including the latest 12, 11, XS, XR, X, 8, 8 Plus etc. at speeds of zero to 50% in 40-55 minutes or at more than twice the speed of Apple stock iPhone charger (which charges at 1 amp).
The power bank will charge most Samsung and other Android phones at 2+ amp charging speeds, allowing it to charge most Android phones from zero to 50% in 50-60 minutes.
The PowerCore 6700 has a true 6700 mAh battery capacity. This is adequate to fully charge all small-screen iPhones (8, 7, 6S, 6, 5S, SE) more than two times, and charge all the large-screen iPhones (including iPhone 12, 11, XS, XS Max, XR, X, 8 Plus, 7 Plus, 6s Plus) from 20% to 100% about two times. PowerCore 6700 will charge most Samsung and other Android phones including the new Samsung Galaxy S10, S9 Plus, S9, S8 etc. from 25% to 100% about two times.
The portable charger is charged via a maximum of 2 amp input current over the micro-USB port and takes about 4 hours to get full-charged from empty.
Anker PowerCore 6700 Design and Features
The narrow rectangular design of PowerCore 6700 looks good and allows it to fit in easily in pockets as well as handbags. This portable charger has dimensions of 3.78 x 1.69 x 0.91 inches, which make it even smaller and lighter than Anker's old PowerCore 5000 portable charger. PowerCore 6700 is also smaller, lighter and faster charging than Anker's older Astro E1 6700 portable charger.
The powerbank gets charged via a micro-USB port and has one regular USB port featuring Anker's PowerIQ (smart device required input charging current detection and 2.4 amp maximum output) charging tech.
PowerCore 6700 comes with 6 power LED indicators on the round power button. The outer surface of the power bank is textured and feels soft, leading to a firm grip. The feel and build quality of the powerbank is stellar though we would have preferred a slimmer design and a USB-C input port (like in the Anker Powercore Lite 10000) for charging the portable charger directly with the USB-C chargers of most samsung/LG/Android phones.
PowerCore 6700 is a huge update over the Anker's older PowerCore 5000 portable charger and is smaller and more compact with more battery capacity.
The power bank package includes a free micro-USB cable and a decent quality travel pouch.
Anker PowerCore 6700 vs Jackery 6000 Bar / Bolt
Jackery 6000 Bolt and Jackery 6000 Bar are close competitors of PowerCore 6700.
Anker PowerCore 6700 has a higher output current of 2.4 amp when compared to the output current of Jackery 6000 Bolt/Bar power banks (2.1 amp). This leads to PowerCore 6700 delivering slightly faster charging speeds for both iPhones and Android phones.
The battery capacity of the Jackery power bank is 6000 mAh and is lower than PowerCore 6700's of 6700 mAh.
Even despite the higher battery capacity, PowerCore 6700 weighs less (4.2 oz/120 gram) than Jackery 6000 Bar  or Jackery 6000 Bolt which weigh well over 5 oz (150 grams) .
Considering all this, we can safely say that PowerCore 6700 is a much better portable charger overall when compared to either the  Jackery 6000 Bar or the Jackery 6000 Bolt, especially as all these chargers are available at comparable prices.
Anker PowerCore 6700 vs RAVPower 6700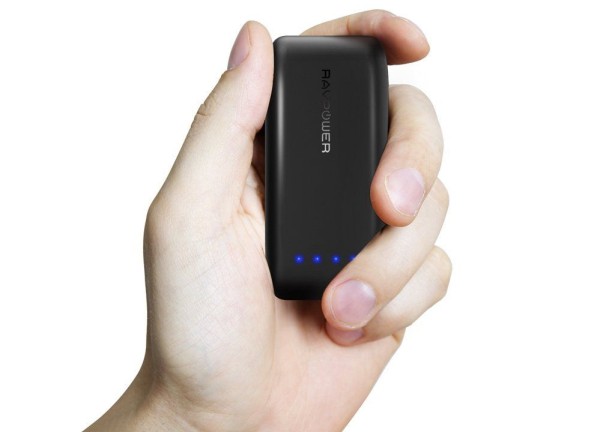 Anker PowerCore 6700 and RAVPower 6700 are almost equally matched in all aspects. Both these portable chargers, have similar output currents (2.4 amp), similar input currents (2 amp), similar battery capacity, similar size and similar weight as well.
Charging performance for both power banks for both Android phones and iPhones are also very similar. Both power banks  feature premium Li-ion batteries as well.
If we have to choose one, we will choose the RAVPower 6700 for providing a much better value for money and we will choose the Anker PowerCore 6700 for its slightly better overall build quality.