PowerBank Guide is reader-supported. When you buy through links on our site, we may earn an affiliate commission.
While many hardcore Nintendo Switch enthusiasts prefer to carry their powerbanks in the backpacks, many prefer the convenience of walking light with just the powerbank in the pocket.
For Nintendo Switch gamers who prefer walking light, we have selected the three best sturdy outdoor use powerbanks that will allow you to quickly recharge your Nintendo Switch within minutes and concentrate on gaming without worrying about battery!
We have taken three important criteria into account to select our top picks. These are rapid charging capability, sturdy build and light pocketable form factor.
#1 Anker PowerCore 10000 with QuickCharge 3.0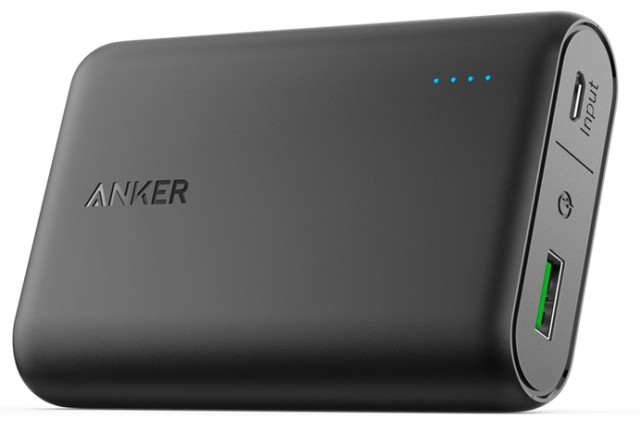 Anker 10000 with QuickCharge 3.0 is Anker's latest offering in the 10000 mah category and is our top portable choice for Pokemon Go enthusiasts. Anker 10000 with QC 3.0 satisfies all our three required criteria of lightness, durability and superfast charging.
Its QC 3.0 feature means that you can charge your smartphone to up to 80% in 30 mins. Its ultra low-weight of 6.6 oz (180 gm) and credit card dimensions mean that you can even hold it in hand while charging your phone. And of course it is the most pocketable of the three powerbanks in the list.
Despite its light weight, this compact powerbank has enough juice capacity to give you three recharges of most modern smartphones allowing you to enjoy a full day of Pokemon spotting.
And to top it all, Anker PowerCore 10000 with QC 3.0 comes at a price point that is barely higher than plain vanilla 10000 mAH powerbanks without QC 3.0.
#2 Ravpower 13400 with QC 2.0 Output and Input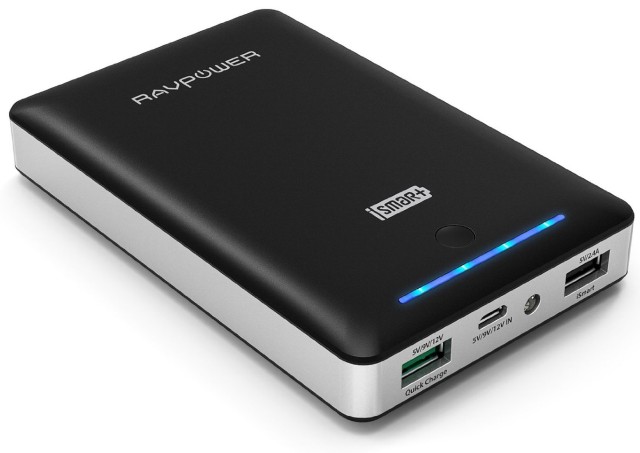 Ravpower 13400 comes with both QC 2.0 input/output, an incredibly attractive price tag, and solid build quality. For Pokemon Go players who do not require the huge bulk of 20100 mAH or 26800 mAH powerbanks but need both the all important Quickcharge input and output features at a reasonable price tag, the RAVpower 13400 is an excellent balanced choice with all the required features and adequate capacity.
With one QC 3.0 port and one 2.4 Amp adaptive fast charging port, this powerbank will easily deliver three to four full recharges (zero to 100%) for most flagship big-battery phones (4 full recharges of Galaxy S6 Edge) and is an excellent choice as a backup battery without going too bulky.
Please note that the older RAVPower 13000 without Quickcharge is also available on Amazon at a slightly lower cost. Be careful to follow our product link and buy only the latest version.
#3 Anker PowerCore+ 10050 with QuickCharge 2.0 input/output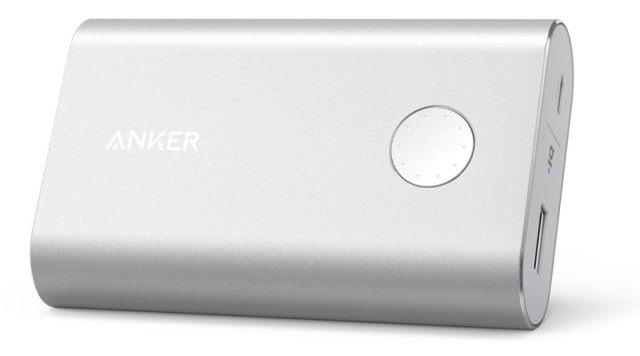 Anker Powercore+ 10050 is our third favorite pocketable powerbank for Pokemon Go. This tiny powerbank is only an ounce heavier and slightly bigger than Anker PowerCore 10000 with QC 3.0 but comes with BOTH Quickcharge 2.0 input AND output. In this aspect, it is even better than its big brother PowerCore+13400 which comes with Only QC input but no output.
The QC input feature of PowerCore+ 10050 allows you to recharge your powerbank quickly – in almost 3 hours while the QC output tops your  phone from zero to 80% in about 30 mins.
The handy QC input feature allows you to go for some impulsive Pokemon catching without advance planning for putting your powerbank on the charge overnite a day earlier!
Please note that the older PowerCore 10000 without Quickcharge is also available on Amazon at a slightly lower cost. Be careful to follow our product link and buy only the latest version.