PowerBank Guide is reader-supported. When you buy through links on our site, we may earn an affiliate commission.
Portable car jump starters are very handy emergency utility gadgets for car or truck owners. Usually if your car's battery dies (i.e. its charge falls too much below operating voltage), you have to call in roadside assistance guys to jump start your vehicle.  With a good and reliable portable car jump starter, you can start your car yourself within minutes. Portable car jump starters are therefore an essential piece of emergency equipment to always have in your car.
Portable car jump starters use batteries and this allows them to be used as emergency power banks as well. Lithium-ion batteries retain their charge for months and this makes Li-ion based car jump starters excellent emergency use power banks as well. Just remember to not deplete the batteries too much. It is best recommended to use your car jumps starter to charge your phone only when absolutely necessary so that your jump starter does not run out of battery or sufficient start attempts) in emergency situations.
When evaluating car jump-starters, there are many important not so obvious must-haves to consider that do not apply to regular powerbanks. One of these is audible reverse polarity alert. This  alerts you if you put the jumper clips in wrong order. Similarly high quality jumper clips are absolutely essential as well.
Another important criteria are starting Amps. We considered 350 starting Amps (700 peak amps) to be the absolute minimum required for reliably starting vehicles with seriously discharged batteries. This was one main reason why we rejected reputed powerbank maker Anker's PowerCore Jump Starter. RAVPower's jump starters also did not meet our criteria as well. Both Anker and RAVPower are excellent powerbank makers but car jump starters are a different ball game and a power bank car jump starter first and foremost has to be a good jump starter – the use as powerbank is secondary and less relevant.
Reliable and repeated jump starting and retention of charge for long times are other important criteria. We have carefully put together our list of car jump starter powerbanks that satisfy all our criteria.
Best Car Jump Starter Power bank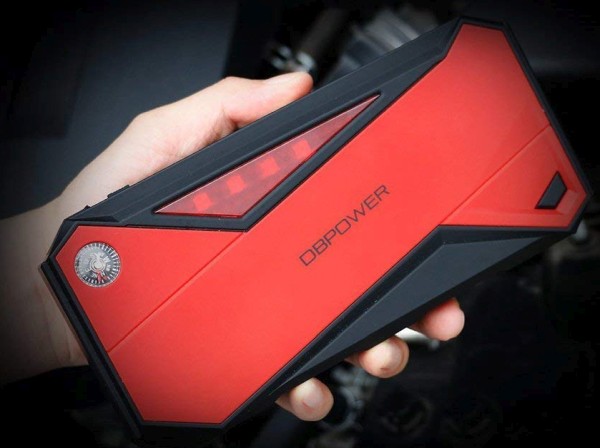 DBPower 2000A 20800mAh Jump Starter is our next pick as best Li-ion battery portable jump starter power bank for passenger vehicles.
While DBPower 2000A 20800mAh Jump Starter has adequate 2000Amp peak current and while it may not have the most bells and whistles as the much more expensive jump starters, we found it to be reliably effective in jump starting both gasoline and diesel vehicles including V8 engine pickups without fail.
DBPower 2000A 20800mAh Jump Starter  has many nifty features as well. One of these is its excellent built in digital display that shows remaining battery accurate to 1%. Another great utility feature is that it comes with an LED display on the jumper cables that displays the output voltage.
DBPower 2000A 20800mAh Jump Starter also has inbuilt bright LED flashlights complete with Strobe/SOS feature for emergency use. The in built 20800 mAH battery is adequate for almost 30 start attempts at full charge. DBPower 2000A 20800mAh Jump Starter has two USB outlet ports with one being Quickcharge 2.0 port and other with 2.1 amp port. This enables it to fast charge both Android phones and iPhones.
The rugged build quality is reflected in the quality of jumper clips and the casing. DBPower 2000A 20800mAh Jump Starter  backs this product with great customer service and warranty and this seals the deal.
DBPower 2000A 20800mAh Jump Starter does not come with a charger and should be charged via the USB-C port using any smartphone charger.
DBPower 2000A 20800mAh Jump Starter What We Like
Adequate 20800 mah battery capacity required for multiple attempts. This is adequate for almost 30 attempts.
Can be charged via USB-C port. Most Android phones these days comes with USB-C chargers. Also comes with a USB-C cable for charging it with iPhone chargers
Reverse polarity protection
Large battery makes it great for use as an emergency power bank.
2000A peak current starts almost all small vehicles
1.4 lbs weight is good
One QuickCharge 3.0 USB port for fast-charging Samsung/LG/Moto phones  from zero to 50% in 30 mins
One fast charging 2.1 amp USB ports for charging iPhones from zero to 50% in 40-60 mins.
Included bright LED flashlight with strobe/SOS modes
What we Do not like
No car charger port included for charging it directly with car/boat battery
Best Car Jump Starter Powerbank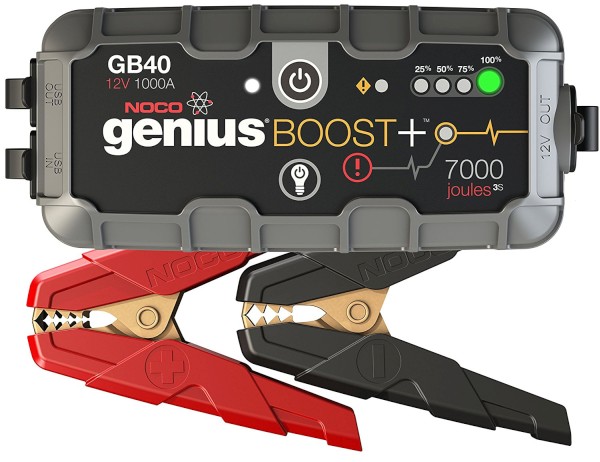 NOCO Genius Boost Plus GB40 1000 Amp jump starter is our #2 choice as a jump starter powerbank. NOCO Genius Boost Pluss GB40  can deliver an incredible 1000 AMps peak (500 amps starting current) which is adequate to start any passenger vehicle – gasoline or diesel.
While NOCO Genius Boost Pluss GB40 excels as a car jump starter, it also lacks certain convenience features which have made us place it below our #1 pick. Its biggest shortcoming is its puny 6400mah battery which is just enough to charge a modern smartphone with spare power remaining for 5-6 sump start attempts.
On the other hand it boasts certain incredible features that make it stand apart. For example, it can start your vehicle even if your battery voltage level has fallen below 2 volts!! Most car jump starters cannot start below 9 volts!
For batteries that are even more deeply discharged, NOCO Genius Boost Pluss GB40  even has an manual override feature that lets you override the reverse polarity protection features and deliver powerful 1000 Amps current to wake up deeply discharged batteries.
NOCO Genius Boost Pluss GB40  is IP65 dustprood and water proof (splash proof but not submersion proof)
What We Like
Very compact size
Spark proof & Reverse polarity proof design
Can start vehicles with remaining batteries voltage below 2 volts
IP 65 Dust proof and splash  proof design
1000 ma peak current & starts almost all small vehicles
Two fast charging 2.1 amp USB ports for charging smartphones.
Included 12V outlet
100 lumen LED flashlight is handy
Excellent jumper clip design
What we Do not like
6,400 mAH internal battery is barely adequate for charging smartphones. Charging one smartphone such as iPhone 13 or 12 will deplete almost 70% of the battery, leaving the user with just 6-7 starting attempts. This essentially means that Noco Genius boost is best only used as an emergency powerbank for topping of the battery.
Priced higher despite having 1/3rd the battery of our #1 pick.
No included power brick. Has to be charged from a USB port
No pre-heat function
No 12v outlet
2.4 pounds weight
Best Overall Car Jump Starter Power bank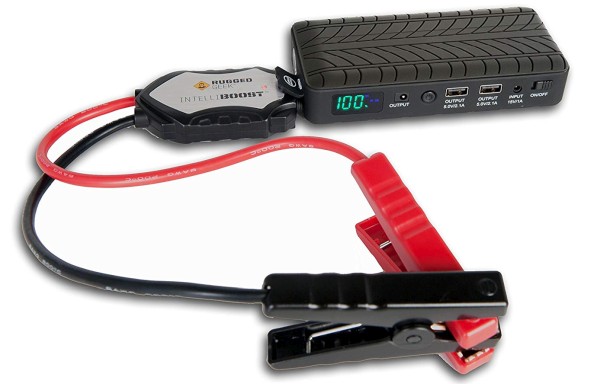 While there are many temptingly low-priced options available in the market, in terms of reliability, build quality as well as features, Rugged Geek RG2000 Safety 2000A Portable Car Jump Starter is our top pick. Rugged Geek RG2000 delivers adequate 2000 Amp peak current to even start 6.0L engines and also comes with lots of features and accessories that make it an excellent emergency use power bank that can charge even laptops.
Rugged Geek RG2000  weighs just under 2 pounds making it the lightest jump starter power bank in our picks. It has dimensions of 9.5 x 1.4 x 3.8 inches. However, despite its small dimensions, it can deliver an incredible 2000 amps peak current, which reliably starts almost all passenger cars and SUVS.
As a power bank, it delivers max 60-watt USB-C output. This means it will fast-charge all latest iPhones 12/11 etc. from zero to 60% in 30 mins and all latest Samsung/Moto/Pixel phones that require 25-watt USB-C charging. It will also charge Macbooks and USB-C laptops with 60-watt USB-C output.
Once charged, Rugged Geek RG2000 will retain almost 80% charge after 1 year, making it a charge once and forget emergency use device.
Rugged Geek RG2000 What We Like
18,000 mah equivalent (66WH) battery capacity is enough for 20 starting attempts.
18,000 mAH battery is very good for emergency use as a powerbank. One full charge of Samsung iPhone 13, 12/11/XR, S21+ or S20+ will use up almost 30% of the battery, still leaving you with about 12 start attempts.
Reverse polarity proof safe design
Extremely compact and lightweight car jump starter charger power bank
Large battery makes it great for use as an emergency powerbank.
2000 ma peak current starts all small vehicles
30-watt USB-C power adapter included
1.94 lb (900 grams) weight is excellent given its high output!
Two fast charging Quickcharge 18-watt 3 amp USB ports for charging all phones.
Included two USB-C cables
Included Car charger and Wall chargers
Included 20V DC direct  outlet for laptops
Bright 100 volt SOS/Strobe function in-built LED flashlight
8 gauge jumper cables
Included 12 volt cigarette lighter adapter/outlet
IP66 dust/waterproof rating
What we Do not like
No pre-heat for cold conditions