PowerBank Guide is reader-supported. When you buy through links on our site, we may earn an affiliate commission.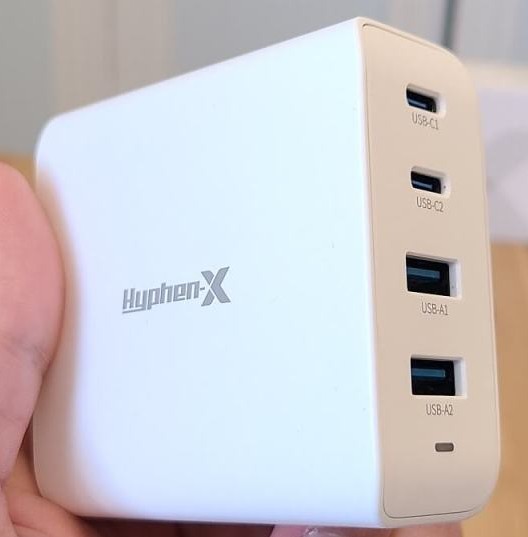 PROS
100W max output when one port is used, 100W total output when multiple ports are used.
Charges two laptops sand a phone simultaneously,
The charger is incredibly small for the power it has because it features GaN
CONS
USB-C is the most wide-spread charging standard and many new charger with multiple USB-C ports are now showing up. In this review, we will rake a look at Hyphen-X 100W charger with four ports and total of  100 Watt maximum output.  This charger uses dynamic charging and can adapt to smartly distribute charge across multiple devices at the same time.
Charging Performance:
Charging power is great with his Hyphen-X charger, as it has a 100W maximum output from a single port or have it shared between multiple ports. There are two USB-C ports and two USB-A ports on the charger. USB-C 1 and USB-C 2 are the most powerful ports, with USB-C 1 taking priority of power allocation. You can charge a single device via USB-C 1; with a 100W output, you can charge most USB-C devices, and that includes laptops, tablets, and smartphones. You won't damage your phone by charging it from a 100W USB-C port as the device automatically accepts a certain amount of charging power.
Charging from USB-C 1 and USB-C 2 simultaneously gives you a 65W output from USB-C 1 and a 30W output from USB-C 2. It lets you charge a laptop and simultaneously fast charge a phone or tablet.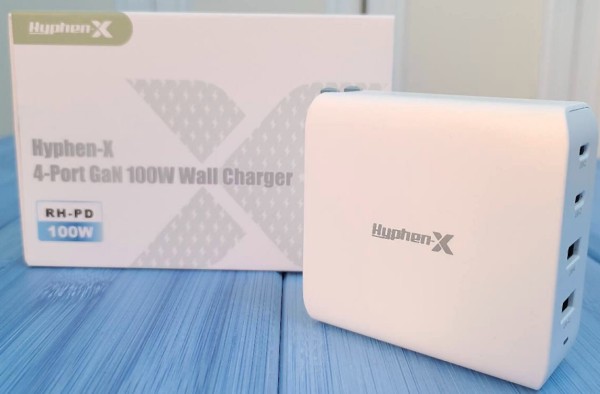 Charging four devices simultaneously gives you a 45W output from USB-C 1, 30W from USB-C 2, and the two USB-A ports share a 7.5W output. We charged a Lenovo IdeaPad Flex from USB-C 1, a Samsung Galaxy S22 from USB-C, and an LG G7 from USB-A port.
The Lenovo laptop was charges near its max speed of about 30W, even though the charger that comes with the laptop is a 65W charger but charging stats are the same with a 45W port; the Galaxy S22 was able to super fast charge at 25W via USB-C because USB-C and USB-C feature Programmable Power Supply (PPS) charging. USB-A Port1 has an 18W output when charging three devices, so it could fast charge the LG G7.
USB C Charger, Hyphen-X 100W GaN PPS Type C Fast PD Charger is Compatible with MacBook Pro Air 2021 16 14 in, iPhone 13/12/11 Series,Pixel 6 Pro, iPad Pro, Galaxy, Dell XPS USB C Laptop 4 Ports(White) USB C Charger, Hyphen-X 100W GaN PPS Type C Fast PD Charger Compatible with MacBook Pro Air 2021 16
Design Size and Weight
Considering the amount of power that this Hyphen-X charger can output, the size of this charger is tiny. The charger has a length of 2.8 inches, a width of 2.7 inches, and a thickness of 1.1 inches. The weight of the charger is 7 ounces. Along with the foldable plug, this charger is straightforward to be portable with.
Once plugged in, a white power light turns on to show that the charger is powered on.
Build Quality:
The build quality of this charger is excellent. The foldable plug will withstand multiple foldings, and the entire structure of the charger holds well. The charger only got slightly warm even while charging three devices simultaneously. Slight warming of a charger is normal
Reliability
Suppose you have at least one USB-C chargeable laptop. In that case, this Hyphen-X wall charger is worth getting because the chances are high that you can also use the USB-C ports to charge your phone as you either have a USB-C Android phone or an iPhone, as you can still charge an iPhone with a USB-C to Lightning cable. The two additional USB-A ports also allow you to charge other devices with a USB-A to whatever connection device you're charging it with.
Summary: The charger is tiny, just a length of 2.7 inches and a thickness of 1 inch; along with a foldable plug, you won't have any problems being portable with this Hyphen-X wall charger.
Reliability: If you have a USB-C laptop, it's a great idea to get this charger because you charge your laptop while charging three other devices if you ever need to.
Hyphen-X 100W GaN PPS USB-C Power Delivery Wall Charger Specs
USB-C1/USB-C2 port 5V⎓3A , 9V⎓3A , 12V⎓3A , 15V⎓3A , 20V⎓5A 100W MAX
USB-A1/USB-A2 port 4.5V/5A, 5V/4.5A, 9V/3A, 12V/2.5A, 20V/1.5A 30W MAX
USB-C1+USB-C2 65W + 30W (95W)
USB-A1+USB-A2 15W MAX
USB-C1/USB-C2+USB-A1/USB-A2 65W + 30W (95W)
USB-C1+USB-C2+USB-A1/USB-A2 45W +30W +18W (93W)
USB-C1/USB-C2+USB-A1+USB-A2 65W + 7.5W +7.5W (80W)
USB-C1+USB-C2+USB-A1+USB-A2 45W +30W +7.5W+7.5W (90W)
Input 100-240V~50/60Hz. 2A Max
Size 2.87 x 2.75 x 1.18 in
Weight 7.2 ounces
Hyphen-X GaN 100W 4-port wall charger is great if you have a USB-C chargeable laptop or multiple USB-C phones or tablets.