PowerBank Guide is reader-supported. When you buy through links on our site, we may earn an affiliate commission.
While charging you phone with a power bank, you may have often wondered – what if I could also charge devices that need AC wall socket also with my power bank. The good news is that many such power banks with an AC wall outlet – in addition to USB charging –  are available in the market. You can use these power banks featuring portable wall outlets to charge ANY of your electrical devices that draw up to 100 watts of power!
The catch here is that portable powerbanks, which only have an AC port, have very high weight-to-battery ratio due to low efficiency and are NOT the best option for laptops. Small AC powerbanks are only suited for specialized professional equipment as well as equipment such as CPAP machines that do not have a DC input option. For laptops/Macbooks or any other equipment with DC input option, your best bet is to choose powerbanks with high-voltage DC barrel port output or with dual HVDC+AC ports or USB-C PD powerbanks.
The high expense on an AC Power outlet powerbank  is  worth it for professionals or individuals who may need that few additional hours on the their electronic/camera equipment to finish that vital project or assignment in the field.
There are a number of manufacturers offering AC powerbanks with the market exploding in the last 5 years. For this article, we will focus on the one that began offering portable power outlets in an extremely small form factor, making it possible to carry around such power banks with you. This is the Omnitech's Omni series power banks with AC outlets, as well as USB-C and USB outlets, available in battery capacities of 20,000 to 38,400 mAh.
Omni 20+ 20000 mAH/70-WH
100-watt AC/DC, 60-watt USB-C Power bank Review
4 Stars
Review Summary: Latest Omni 20+ 20000 compares well with competition such as the Anker Powerhouse 100. Both power banks support 100-watt AC output and cost nearly the same.

 We recommend Anker Powerhouse 100  if you require up to 45-watt USB-C PD output for Macbooks/laptop, and prefer 30% higher capacity (27,000 mAH) compared to Omni's 20000mAH. 
We recommend Omni 20+ 20000 if your laptop does not support USB-C charging or if you need higher 60-watt USB-C PD charging. Omni's 100-watt DC port charges all laptops, CPAP machines, Drones etc. With highly-efficient direct DC output,  Omni 20+ 20000  delivers charging for all major laptop brands, even those without USB-C port charging support.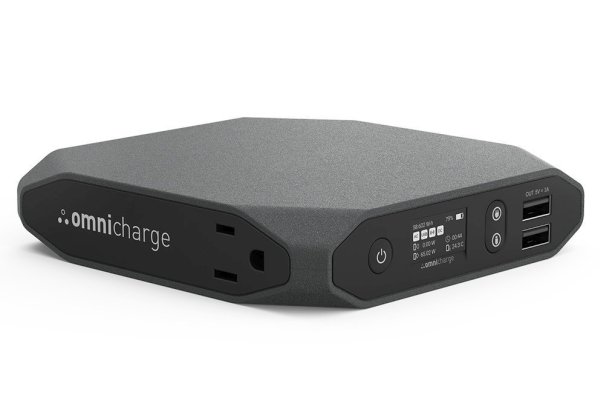 What We Like
Light for a 110/220 Volt AC outlet in your pocket (1.56lb or 750 gms)!
Handy for professionals
100 Watt is decent power for quite a bit of light equipment
TSA approved! Vital for travel and extending laptop use in flights during emergencies
Two fast-charging USB ports for charging smartphones
Sleek Design with Black & White Color options
Fast 2.5 hours charging
What We Do Not like
Priced a bit higher though same as its competition

What Can Omni Power Banks Charge?
Omni 20+ 20000 mAH  have two types of charging ports
Two fast charging (2.1 A) USB charging ports for charging smartphones & tablets
One 110 Volt AC wall plug outlet for charging any electrical device drawing up to 85 watts of power such as most light laptops such as Macbook Air, Microsoft Surface series laptops, Chromebooks etc.
Available Portable Battery Capacities
Omni 20+ 20000 mAH  are currently available in 27,000 mAh  battery capacity. Earlier, 12,000 mAh and 18,000 mAh versions were also available, but they have been discontinued as of now.
We believe that Omni 20+ 20000 mAH  offers excellent portable power solution for a wide variety of outdoor and emergency power needs…if you can afford it.
Flexibility and Options for Business Users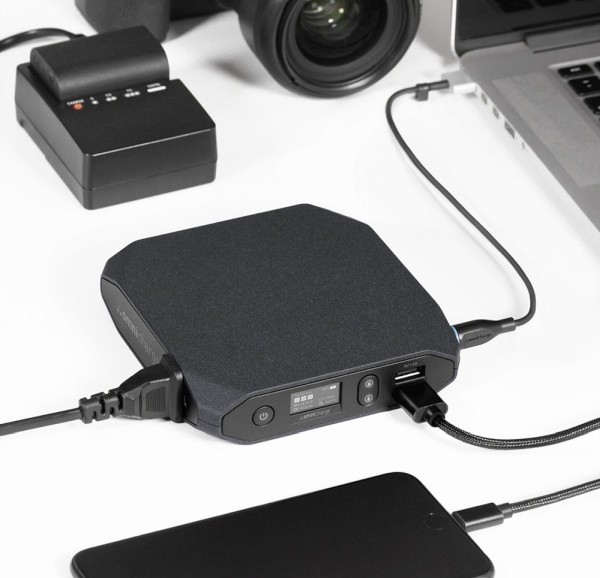 Having both USB charging ports and AC outlet in your power bank gives you incredible flexibility and options on business travel as you can extend the range of your workhorse laptop and your smartphone with a handy and lightweight device.
Such flexibility is also incredibly useful for emergency and outdoor purpose when sometimes you may have to operate a regular AC light or even a small fan for some time.
The Not So Rosy…
Well, all this light weight, flexibility and charging power comes for a bit high price compared to Anker Powerhouse 100 – which also has 30% more battery capacity. Omni 20+ power bank costs higher when you take battery capacity into account.
Reliability and Charging Performance
Omni 20+ series power banks originated from an crowdfunding project . Since then, after some initial hiccups, the product quality has become reliable and dependable with high reviews and product ratings on Amazon.
We found Omni 20+ 20000 mAH  to be an excellent and dependable performer in charging our test Macbook Air 2021, charging it to full from about 15%!
Omni 20+ vs. Anker PowerHouse 100 AC Power bank
Anker Powerhouse 100  is direct competitor to Omni 20+ 20000 mAH and also our top pick as portable AC outlet or laptop powerbank. Anker Powerhouse 100  is a slightly superior product that beats Omni 20+ 20000 mAH when it comes to capacity, versatility and build-quality.
Both Anker Powerhouse 100  and Omni 20+ 20000 mAH  offer 100 Watt power output allowing you to run more heavy loads and AC equipment.
Anker Powerhouse 100 offers 45W USB-C PD power output while Omni 20+ 20000 mAH offers up 60 W. However, Anker Powerhouse 100 offers 100Wh battery while Omni 20+ 20000 mAH  has a smaller 70Wh battery.
Both power banks have USB-type C ports allowing you to charge latest phones such as iPhone 13/12/11 series and Samsung Galaxy S21, S20, Nintendo Switch, the latest Macbooks and laptops directly using the power banks. USB-C ports also offer much higher charging efficiency compared to charging your Macbook/Laptop through AC power.