PowerBank Guide is reader-supported. When you buy through links on our site, we may earn an affiliate commission.
[yasr_overall_rating size="large"]
4.6 stars
Excellently-priced & future-proof high-capacity USB type-C/QuickCharge 3.0 power bank. Offers both USB-C and Qualcomm 3.0 quick charging for both input & output. Good multi-utility powerbank for charging the latest smartphones, and other USB-C devices such as laptops and Nintendo Switch.
What We Like
Can be quickly charged using Quickcharge 3.0 – a HUGE plus over rivals
Excellent value for money
True 20,100 mAh capacity
Qualcomm Quickcharge 3.0 – the latest in rapid charging.
USB type-C – Run your Macbook/Chromebook with the powerbank!
Three USB charging ports in all (USB type-C, Quickcharge 3.0 USB, and adaptive fast-charging up to 2.4 Amp USB)
Scratch-resistant design
Solid build quality, 18-month warranty, and support
What We Don't Like
The maximum USB-C output (15 watt) is perfect for  charging smartphones. However, USB-C charging of laptops will be slow at this speed. If you intend to frequently charge laptops/Macbooks at maximum speed, we recommend considering the 30-watt brother of this powerbank – the USB C Hubs RAVPower 20100mAh Portable Charger, which is 2X faster while charging USB-C Macbooks/ultratops.
No USB type-C cables included
Quick Review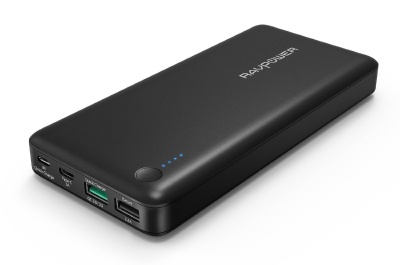 RAVPower 20100 Mah powerbank hits the sweet spot in terms of pricing, features, build-quality, weight, and charging capacity for most users.
Features-wise, it offers two major must-have features for latest powerbanks:
USB type-C charging, which allows you to run/charge your Macbook/chromebook/ultrabooks – as well as the latest and upcoming flagship smartphones – from the powerbank making it a versatile option for power users. The powerbank can be also charged through USB-C wall chargers in about 5 hours.
Qualcomm Quickcharge 3.0 for charging the smartphones/tablets quickly – and ALSO for charging the powerbank itself as quickly. This means that, first, you will not have to wait forever for your huge-capacity powerbank to  charge itself as it can get charged in just 4.5 hours using a Quickcharge 3.0 wall charger.  Second, it means that you do not have to wait for hours as your powerbank charges your phone as Quickcharge 3.0 will charge it to 80% in just 30 minutes.
Here is a list of all QuickCharge 3.0 & 2.0 compatible smartphones.
20,100 mAH capacity is  almost the maximum for adequately  charging the latest high-capacity battery smartphones about 5-6 times. It is also enough for a single charge for a Macbook/Chromebook etc. while leaving some juice for the phones!
Price-wise, you get a feature packed high-capacity powerbank with solid build that falls just on the right side of Amazon's free-shipping threshold! 🙂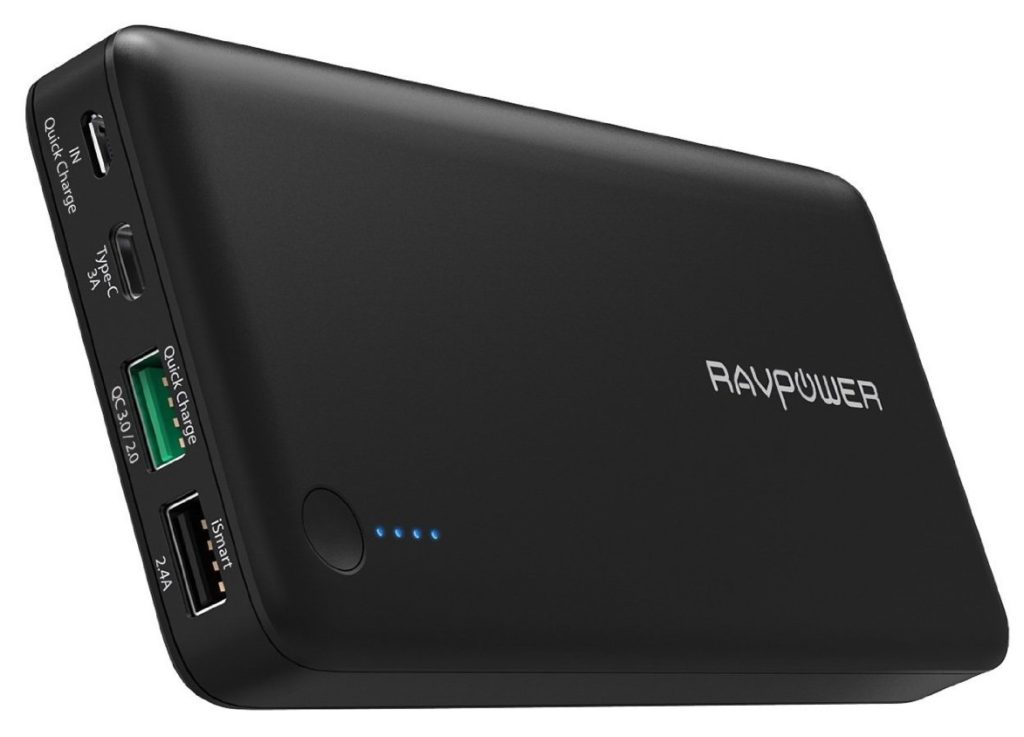 Though more battery capacity could have been added for more bulk and price, but as we have said, the RAVPower 20100 Mah hits a sweet spot balancing the four factors – Capacity, Weight, Price, and while delivering solid build quality.
For users who do not want the USB-type C function for charging Macbooks etc. and do not also need fast charging for the powerbank itself using Quickcharge, here are two excellent and cheaper powerbanks from RAVpower and Anker that offer the same capacity at a lower price + shipping.
Tip #1: Please note, that an OLDER version of RAVPower 20100 USB-C with Quickcharge 2.0 (older version of QC) is also available in the market for a very minor price difference. Both powerbanks look EXACTLY the same! We have only included the links to the latest version with QuickCharge 3.0 on our pages as it delivers 15-20% faster charging performance. Of course, QC 3.0 will support charging of your all the QuickCharge 2.0 compatible smartphones and tablets at QC 2.0 speeds . 
Tip#2: Buy a high-end sturdy and fast-charging powerbank cable such as the Anker Powerline+ Lightning Kevlar/Nylon Double-braided 1-ft cable if your powerbank's price in the cart is falling just short to qualify for free shipping. Also read here how a short and high-end cable helps you get extract the best capacity out of a power bank.
Tip#3: To get the most out of your  RAVPower 20100 Mah, buy it with a good quality Quickcharge 3.0 wall charger and a good quality USB Type C cable if you do not have them already.
Tip#4: The USB Type-C cable that came with you Macbook will work fine for charging from RAVPower 20100.
Design and Packaging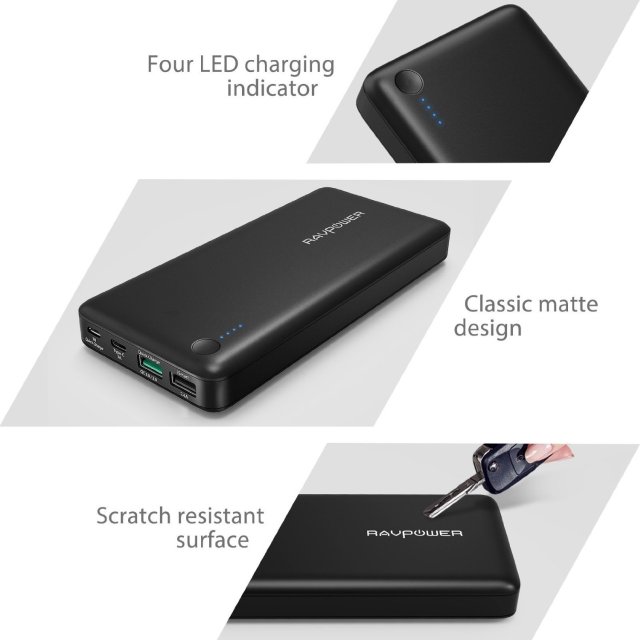 RAVPower 20100 Mah USB type C powerbank features a matte-finish black design in a sturdy scratch resistant case. The 6.8 x 3.0 x .87 inches design is  slightly more wide at 3 inches than seems to be the latest trend! At 13.3 ounces it weighs slightly more than a usual soft-drink or soup can. It is a robust and sturdy design that not only handles scratches well but also does not cause scratches on other items like many of the metal body power banks. The matte surface ensures that the outside surface of the powerbank remains finger-print and smudge free.
USB Battery Bank Performance

The RAVPower 20100 Mah USB type C powerbank has true 20,100 mAH capacity, letting you charge most modern smartphones about 5-6 times
The powerbank uses high quality LG/Panasonic batteries with a host of battery and circuit monitoring systems that monitor temperature and volatge to ensure optimum charging capacity. The quality batteries are one big reason that RAVPower can offer 18 month warranty – same as its rival Anker.
Here are typical charging counts we found in our charging tests.
iPhone 7 – + times
Samsung Galaxy S7/ S7 Edge – 5+ times
Moto X Pure – 5+ times
iPad Mini – 1.7 times
Google ChromeBook Pixel – 1.4 times
Three Fast Charging ports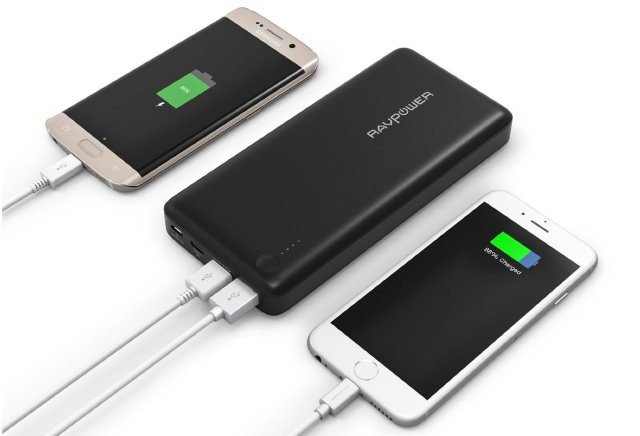 The RAVPower 20100 Mah powerbank comes with three fast charging ports, including the increasingly popular USB-C and the latest QuickCharge 3.0:
One Qualcomm Quickcharge 3.0 USB charging port for blazing fast recharge of supported devices (And yes, do not worry, You can also use the Quickcharge USB port to charge your non-Quickcharge supported smartphone/tablet at usual USB charging speeds). Here is a comprehensive list of Smartphones and Tablets with  Qualcomm Quickcharge Support.
One USB Type-C port for charging  the latest (2015+) Macbooks, Google Chromebook Pixel, many other latest laptops and high-end smartphones such as Moto Z and LG G5.
One USB 2.4 Ampere fast charging port. A regular USB port charges at about 1.1 A. Hence, the 2.4 A USB port is more than twice as fast at charging your smartphone or tablets than regular battery bank USB ports.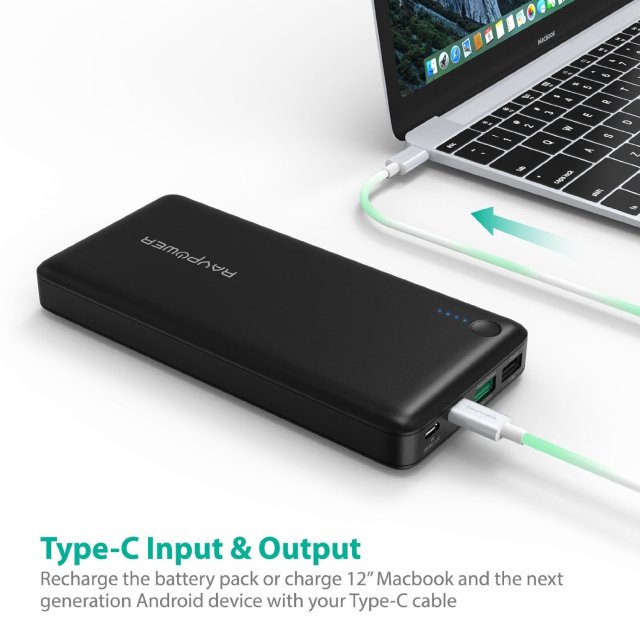 Qualcomm Quickcharge 3 is the latest version of Qualcomm's Quickcharge charging technology that is aimed at delivering the fastest charging capacities for modern batteries. It is fully backward-compatible with older 2.0 and 1.0 devices as well. Expect nearly 80% charge in 30 minutes using Quickcharge 3.0.
Latest Safety Protections
Like most modern powerbanks from quality manufacturers, RAVPower 20100 Mah powerbank has a long list of safety protections including surge and over voltage protection, over-temperature protection,  intelligent detection of supported maximum current for devices (so-called iSmart),  and dual voltage control safety chips. Given the high cost of modern smartphones and Macbooks, it is always nice too have as much extra safety features as possible.
RAVPower 20100 vs Anker PowerCore+ 20100 USB Type C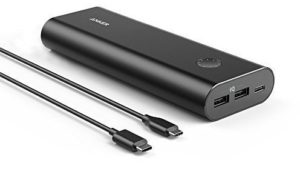 RAVPower's 20100 USB Type C's  closest competition is Anker Powercore+ 20100 USB Type C at a comparable price. Both power banks offer maximum 15 watt USB-C charging i.e 5 volts at 3 amps.
RAVPower's 20100 USB Type C beats Anker's powerbank in the crucial aspect as RAVPower20100 supports Quickcharge for charging the powerbank itself –
RAVPower 20100 gets charged using Quickcharge 3.0 wall charger in about 4.5 hours.
While, the Anker 20100 Powercore USB Type C powerbank takes up to 8-10 hours to recharge using its  2.4A charger or USB type C charging.
Please also note that Anker's Powercore+ 20100 USB-C powerbank does not come with QuickCharge input or output. 
However, the Anker's Powercore+ 20100 USB-C powerbank, comes with two additional free USB type C cables while RAVPower 20100 does not come with any included USB-C cables. This saves you some bucks if you are planning to use the powerbank only for USB-C devices. Anker's portable battery is also slightly narrower and slimmer as well.
The Quickharge 3.0 input/output feature of RAVPower 20100 USB-C  that lets you rapidly charge your powerbank through a Quickcharge wall charger in just about 4.5 hours tips the scale for us in favour of RAVPower 20100 Type C .
As Ravpower's USB-C powerbank offer more versatality (3 types of ports + QC 3.0 charging of powerbank) at a lower price, while still offering solid build quality and reliability, in our opinion, RAVPower 20100 Type C  is a better choice than  Anker's Powercore+ 20100 USB-C .
Verdict
RAVPower 20100 Mah powerbank is an excellent purchase as a versatile feature-packed powerbank that can boost the working times and battery lives  of  your smartphones, tablets and Macbooks. The powerbank is slightly on the bulky side but that is a minor complaint when compared to the good balance of price, features, build-quality that it offers. And, if there is one feature that makes it stands out from the competition, it is definitely the rarely seen combination of both USB-C input/output and Quickcharge 3.0 input/output – that gives you maximum charging flexibility for a wide range of  current and upcoming devices while letting you charge your RAVPower 20100 Mah in about 4.5 hours flat, and be ready for that long-drive or flight!
Please note that their are two flavors of Ravpower USB-C 20100 powerbank available –
RAVPower 20100 USB Type C with 15 watt maximum USB-C charging and Quickcharge 3.0. This is a good buy if you own either a USB-C or QuickCharge 2 or 3 smartphone and want a future proof powerbank that can also occasionally charge USB-C notebooks or Macbooks.
USB-C Hubs RAVPower 20100 Type C  with 30 watt maximum USB-C charging and NO Quickcharge 3.0.  This is priced higher and is an ideal buy if besides charging charging your USB-C smartphones, you also intent to charge your Macbook or laptop/ultrabook at maximum charging speed (same as the Macbook wall charger). This version comes with  RAVPower 30W Type-C Charger and a USB-C connector cable, making the price difference between the two very versions minor.
15-watt Anker and RAVPower USB-C 201000 mah
15-watt Ravpower 20100 USB-C
with QuickCharge 3.0 Wall Charger
30-watt USB-C Hubs RAVPower 20100
with USB-C Wall Charger